SOUTHPARK AVATARS
- Number 1's edition (??!!)
These girls are taking some heat from the crowd for starting the trend of Slamless Number 1's. But as long as that's how the WTA rankings go, these people might as well just KISS THEIR A$$!
Copy these Southpark-inspired Avatars featuring former number 1 Jelena Jankovic and current number 1 Dinara Safina.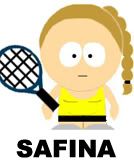 For more Avatars, check out the
SOUTHPARK SPIN
collection.